Scottish Highland driving tour started from Inverness – the unofficial capital of the Highlands.  We took the overnight sleeper train up from London's King Cross and reached Inverness comfortably early morning.  Our plan was to drive all the way from Inverness to the Isle of Skye and back to Edinburgh (via Stirling) in the next 4 days.
Day 1: Inverness to Garve
After breakfast at the railway station, we started driving to our first stop – the Battlefield of Culloden.  Fans of Outlander may already know this but this was the location where the Scottish Jacobite rebellion was brutally defeated by the English forces.  Thousands of Scottish clansman died in that battlefield – which had a devastating effect of Scottish culture. Now, it is a field with markers and flags that denote mass graves for particular clans.  It would have been just a field with some stones for me, but there was a young 16-year-old boy playing the most plaintive melody on bagpipes there that created an atmosphere of hushed reverence even 250 years after the battle.
We then made our way to Loch Ness and the ruins of the Uruquart Castle.  While we didn't catch sight of Nessie, the medieval Castle and the view of the Loch Ness
from the castle was a pretty stunning sight. The history of the castle is essentially a history of clan rivalry and raids and a signboard in front of the castle listed the spoils of such a raid by the MAcDonalds in 1545 – including thousands of sheep, goats, cattle, pigs, horses and geese.   The signs also described what each of these buildings were used for in its heyday – so you could imagine the hustle and bustle of a great keep complete with cattle, sheep and goose.
We were on our way out of Inverness by early evening, but we did a pitstop at a small local family farm "Robertson: The Larder and Children's Farm.  I really recommend this stop- especially for those with kids. They had a decent size petting and feeding zoo with Highland Cows, sheep, goats, hens and alpacas. Both the kids and the those who are kids at heart (and the greedy animals) had an enjoyable feeding session.  We spent about an hour and a half here – till they closed. It was difficult to drag the kids out from here because in addition to the animals, they also had a sand pit with toys and cars.  The family store (very friendly owners) sold cheese and sauces and preserves and baked goods. We had some cheese and crackers and strawberries –     so a good time was had by all.
We drove all the way the Dundonnell Hotel near Garve that night.  The location of the DunDonell Hotel is on the coast of Little Loch Broom – we walked along the coastline for a bit when we came across a little cairn that was inexplicably covered in what seemed like banners  with Sanskrit writings on them.  Definitely strange.   The hotel itself was very nice – good views, comfortable spacious rooms, excellent food at the restaurant , free wifi and very affordable rates.
Day 2
Our plan for Day 2 was to drive all the way to the Isle of Skye. Our first stop though was the botanical gardens of Inverewe near Gairloch.  The Inverwe gardens covers about 49 acres and thanks to the influence of the North Atlantic drift or Gulf Stream, tropical plants thirive here despite the Scottish cold climate.  The garden is set out almost like a terrace garden – with separate sections for vegetables, flowers and tropical plants.
We were right in time to see the very rare bloom of a tall (about 9m)  cactus like Central American plant called the Puya alpestris which was blooming for the first time in 11 years and would last only for a week.
After lunch, we set off again on a very scenic drive to the Isle of Skye.  It was truly beautiful sights all around , especially with the view of the Loch Maree and the mountains all around us.  Sheep were everywhere , grazing freely.   We were driving rather slowly and stopping multiple times to take pictures of scenery – Words just don't do justice to the beauty of the drive.
We reached the Tigh na Bruach Bed and Breakfast in the evening where we were staying for the next two nights. The Bed and Breakfast place itself was quite large and could accommodate almost all of us (Seejo had to find another room at a nearby hotel).  We had a very mixed experience here – so I would only recommend this if you are not travelling with kids.  While the husband was very pleasant and welcoming, I couldn't say the same about the wife. Her very first words on meeting us was  not a hello or a welcome or but  a very strident – close the door or my cat will escape. (we didn't see a cat for the two days that we were there – so perhaps it had escaped).  Keep in mind, we were travelling with 4 kids – two 6 years olds and two three-year olds and they were cooped up in a car all day long.  We got two rooms upstairs and by the time we grabbed our luggage, we already got a complaint that the kids were too noisy and they need to be quiet because her son was asleep (we never did see the son either ) . Keep in mind, they were not screaming – just being their normal selves.
The next morning, we would get yelled at because we didn't leave the house before 10 (we were never told that we had to , we were staying there for two nights),  then when we gave the phone to the kids to keep them quiet at breakfast time – I got a caustic remark about how kids were using too much electronics .  For some reason, anything unplanned seemed to fluster her – when the kids didn't sit at the seat that she has designated (milk glass instead of a coffee cup), she was strangely agitated, till we switched the cups for the glass.  Her husband was polite, cheerful and incredibly nice – so perhaps she was just having a bad day!  The breakfast was superlative – proper Scottish breakfast with eggs, sausage and fruits and beans – very delicious.
Day 3
We had a short drive the previous day to see the Isle of Skye but by the end of Day 3 – we were convinced at why this is regarded as one of the most beautiful places to visit in Scotland.  The weather was wonderful , bright and sunny – and extremely rare . The weather is normally rainy and windy and cold and every single local made it a point to apprise us of our luck in having such incredible weather and also that that this was not normal.
Our first stop of the day was whiskey tasting at the Talisker Distillery. We observed how the whisky making process for and how they obtain the distinctive smoky peaty flavor by burning peat moss. It seemed like such a small distillery, but this island has been manufacturing Talisker Whisky for almost two hundred years.  I also learnt that the origin of the barley plays almost no role in the final taste of the whiskey and most distilleries bulk order malted barley from Europe and Canada.
Our next stop was Neist Point Lighthouse – It had a green knoll with a long protrusion that stretches like a huge tongue into water – and at the distant end there is a lighthouse. We didn't walk all the way to the light house but climbed up the hill to get a beautiful 360 degree birds eye view of the beautiful location.
I must give a special mention on Café Lephin near Neist point lighthouse where we had our lunch. It was a really nice café with great service, clean rest rooms, free wifi and some amazing sandwiches and soup. It was also Rishaan's birthday that day – so we ordered some cup cakes and sang Happy Birthday three times till he was satisfied that he turned three.
We spent the day driving around at the island and oohing and aahing at the dramatic views that we could see from every viewpoint.  We also visited the Kilt Rock and the Mealt Falls,  the Sligachan Old Bridge and drove past the Dunvegan Castle. We ended the day at Portree which the main town in the Isle of Skye with several restaurants and tourist shops is.
Day4
Our first stop of the day was the Sea Probe Atlantis on the Isle of Skye itself , an Underwater boat trip that promised us a look at Marine wildlife underwater and based on what they said "spot crabs, starfish, sea urchins, jellyfish, sea squirts and various different types of fish". None of these creatures seemed to have gotten the memo so all we could see underwater was the giant forests of kelps. Admittedly , there was something mesmerizing about seeing these huge plants wave eerily in the dimly lit view we could see from the large glass windows from the downstairs deck . It reminded me of where the mer-people would live in a Harry Potter book.  But the marine sea life may have been there but it is extremely difficult to see anything amidst the kelp.On the water surface, we did see otter families gamboling about – so it was not a total loss but the Sea Probe definitely didn't live upto its hype.
After that, we took the ferry to Mallaig to see the Eilean Donan Castle. Now this castle has such an impressive location that there is no vantage point from which it has a poor view.  It was my favorite Castle in UK .  Also they had the best tour guides. A jolly grandpa who delighted Annika by chatting with her and inducting her as an honorary Scot  and a really quit gentleman who asked me where I am from and chatted with me to discover that he had been stationed at my home town of Kochi in Kerala for several years and could understand a smattering of Malayalam and missed Kerala food!
After this our next stop was  Glennfinnan viaduct – made famous by the Hogwarts express train  scene in Harry Potter. We just missed the train when we got there but it is a pretty impressive spot with a long curved bridge supported by massive arches. It is a few minutes flat walking trail from the car park but it was deserted when we arrived so we could spread out and take some good photographs. But there were plenty of midges to keep us company – so we hurried back to the car !
We continued our scenic drive to Fort William  to the Inns at Ardgour, situated right at the ferry docks for  of Loch Linnhe. This was a good hotel but we were there for such a short time (just to sleep) that I don't really have a stand out memory of the hotel.  We were ready to crash when we reached there
Day 5
Our goal for Day 5 was to get to Edinburgh.
Doune Castle was the first . Our goal was to just see the castle quickly and move on but thanks to a flat tire – we spent a lot more time exploring the castle (Seejo and Asif fixed the tire) and learning about how Outlander was shot here. The audio self guided tour had two commentary tracks  – the outlander one and the original one and I switched between the two. Compared to other castles, it was smaller but the façade was very recognizable. The gift shop also had these 18th century dresses you could try on for photos – so we indulged a bit in that till our car was fixed.
Our next stop was Stirling Castle.  There is a huge statue of Robert the Bruce in front of the castle but the castle also boasted of the beautifully maintained Queen Anne's gardens with several flowering shrubs. This was a significant royal castle and played a pivotal role in several important Scottish battles.
We reached our hotel in Edinburgh (Holyrood Aparthotel ) which as its name suggest was an apartment with rooms being let out for short stays.  After dumping our bags there, we thought we might visit the Dynamic Earth but instead visited the Camera Obscura.  The Camera Obscura is a museum of optical illusions and has 4 floors devoted to several light and mirror related displays including thermal cameras, trick mirrors that make you seems as you have a floating head. One highlight was a expertly arranged room that made you seem like a giant on one side and a midget on the other.  They also had a periscope view of the entire city of Edinburgh that was reflected on a concave surface on the top floor with a young guide explaining all of the wonderful sights of the city.  This is a must watch.
By this time, it was night and the kids were in in need of comfort food and we were in need for any food so we went to the local McDonalds and had a burger or two before heading back home.
Day 6.
Edinburgh City consists of a long road called the Royal Mile which is the main thourougfare of the city.  There are side alleys branching off from the main street in both direction and these very narrow side streets are called "closes".  These closes slope down and in the olden days could be gated to control entry and exit to the main street.  A very popular tourist attraction that we loved was the tour of Mary King's close. As the city grew, the buildings sort of were built on each other and a tour of mary King's close reveals how the poor and the middle class lived hundreds of years ago. As opposed to the castle tours , it was illuminating to see how the poor lived – several to a tiny room.  Mary King's Close tour explained how the narrow closes were both dumping grounds for waste from houses as well as open air market stalls as well as thoroughfare. There was also an intact toilet seat (presumably one of the earliest toilet seats because the owner used it openly to show everyone that he had this new fangled creation ).  It was an engaging and interesting tour of the uneven and dimly lit underground streets  and featured stories of the common folks in the 17th century.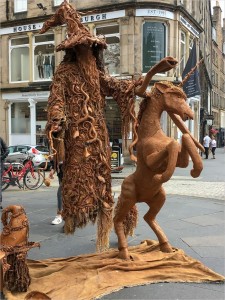 We stopped briefly at the Writer's museum and I was taken aback by how many popular authors called Edinburgh home. From Robert Burns, to RL Stevenson, to JK Rowling – Edinburgh's contribution to literature is immeasurable.  But the theme of the city is now undoubtedly JK Rowling. Witches and Warlocks are available for photos at various points, the café where  Rowling wrote Harry Potter's first draft is a huge tourist attraction and there are Muggle tours everywhere.
Our final stop of the day was the magnificent and humongous Edinburgh Castle. It wouldn't be wrong to call it a walled city because it had everything enclosed within it. In terms of all of the castles we saw, this one seemed to be the largest and most impressive and definitely the most crowded.
After a spot of shopping, we made our way back to Edinburgh railway station to take the train back to London.
And as always for every trip, there was so much more we could see and do but what we saw was very beautiful.