The Biotechnology Industry Organization (BIO) held its annual meeting in Chicago this year. The weather in Chicago was unusually mild and a welcome difference from the cold windy days that I encounter during my annual pilgrimage to Chicago in December to attend the Radiological Society of North America (RSNA) annual meeting.  BIO was much more of a "schmooze" meeting rather than scientific, but the highlight of the meeting was that the keynote speakers for the Monday luncheon were Presidents George W Bush & President Clinton while that for Tuesday was Al Gore.
We got to the hall about 1.5 hours before the scheduled time but the queue had already started forming.  They let us into the hall 30 minutes before the presentation, and then it was a free for all, as everyone literally sprinted down the hall to get as close to the stage as possible.  The serving staff stood in two lines on either side of the center aisle loudly cheering as meeting attendees dressed in formal wear dashed down to catch the best seats. Fortunately for me, my enterprising colleague Todd managed to get us excellent seats upfront right behind the VIP section.  The food served was rather mediocre, and we picked at it waiting for the talk to start.  The two Presidents walked in along with the session moderator,  Jim Greenwood, President & CEO of BIO, who started the discussion claiming that they had three Presidents on stage.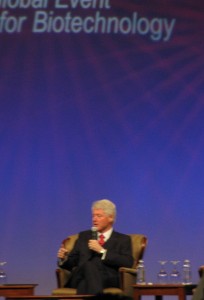 Jim Greenwood asked questions about various topics, both US-centric and global, that are currently of interest and allowed both Presidents time to respond. He kicked the session off by asking each of them about the Bush-Clinton Haiti fund and the work that is being done at Haiti and then followed that up by asking about the Israel and the Middle East peace process.  Both Bush and Clinton talked about the past efforts in this process and the current state of affairs within Israel under Netayahu. Clinton commented that he was elected on a peace ticket and he has the skills, the intention and the local support to promote peace, however he needs to manage to keep the backing of his coalition.  While Clinton expressed his regret in not being able to resolve the conflict during his tenure, Bush immediately offered support by saying that he "applauded Bill's efforts in the Middle East, but he got shafted by Yasser Arafat. And he is the winner of the Nobel Peace Prize and he doesn't want peace"
Bush was in fine form, and according to me, was deliberately trying to play up to his "idiot image".  He scratched his head frequently, and was extremely funny. As Clinton referred to him as President Bush,  Bush immediately joked back" I guess I should call you President Clinton, because you keep calling me President Bush instead of George" Clinton went red in his face, and immediately buried his face in his hands and then proceeded to call him George through the next hour!  Although Clinton definitely came across as an erudite, well read person, quoting from various books, I was impressed with Bush. He was far more knowledgeable than I expected, talked well and apart from one comment about "the jewishness of Israel" was a very engaging speaker.  Other topics of discussion included energy situation, efforts against AIDS, homeland security and the economy (Bush scratched his head, and clarified "I was a history major , you are asking me to predict the  economy", his observation was "The Wall street got drunk and we got the hangover").  When Jim Greenwood prodded further on any changes the government needs to make, Bush retorted"Capitalism still works, if that is what you are asking, it paid for this lunch that everyone is enjoying". Jim Greenwood responded immediately that "this is a free lunch". Bush came back with a "that's what they think" while Clinton ragged Greenwood saying that it was the "first time I have heard a Republican admit to a fee lunch". Bush disclaimed instantly that he had not uttered a word.  The audience was in splits by then.
When asked about the future of America as a superpower, Bush responded with a standard rhetoric that he didn't apologize for America and it is and will be the greatest country in the world. Clinton was more realistic and said that although other countries like India and China may overtake the US in terms of GDP, people will still want to be here because it promotes innovation. He said that the US should encourage immigrants because they enrich the country and bring more innovation.
Jim Greenwood asked both Presidents to comment on bipartisanship and if it is still alive, Bush & Clinton both agreed that it is indeed worth striving for although it is not easy. Bush offered a suggestion that the Congressional districts should not be restructured to make it safe for the representatives to get re-elected.  Clinton supported Bush and quoted from Bill Bishop's book " The Big Sort"( http://www.amazon.com/Big-Sort-Clustering-Like-Minded-America/dp/0618689354)  , about how people are getting more and more narrow minded (a Republican only watches certain channels, a Democrat only follows liberal blogs, you only live with people with similar views) and that is affecting how America functions as a society.
Towards the end, Greenwood switched to softer topics asking the Presidents about what they wish they had accomplished while they were in power . Clinton's list included the Middle East peace process while Bush mentioned Social security (according to Bush, his representatives supported him by saying"We are behind you President Bush, way behind you"). While talking about what they miss about the White House, Bush's initial response was a pithy "Glad I ran, Glad I served, Glad I am out of there" but he did mention that he missed being Commander in chief to America's soldiers, the "awesome" pastries, "Airforce One" and lack of traffic Jams. Clinton reiterated Bush's comment about commander in Chief, but he missed representing America around the world. What he didn't miss was the ability to manage his own time. He said as a President" you need to fulfill what you promised in the campaign, otherwise you will feel empty at the end of 4 years, but you also need to respond to other events happening. If you don't you are just foolish" But what he missed the most was the music – being able to invite any musician to perform and he said it was the only job where they play a song when you enter the room!
Clinton and Bush were extremely cordial to each other, and made it a point to praise each other's efforts at every chance that they got.  Bush definitely got the most laughs, my personal favorite was when he declared that now he has lots of time and he is writing a book. "this may come as a shock to many because most people believe I can't read a book, let alone write one".  Overall, it was a great discussion although not the least relevant to a BIO meeting.
Former US Vice-President Al Gore's talk , the next day, was a bit more relevant keeping to the theme of BIO's mission to "Heal the world, Feed the World and Fuel the World".  Although he started off with a funny anecdote about the time he talked about eating at a Shoney's restaurant after he lost his election and by
the time it was published in the press it appeared as though he was running a Shoney's restaurant. But after what seemed like the obligatory anecdote, he launched straight into his customary talk regarding Climate change. I thought he made a very convincing case about the presence of climate change, however I had heard most of it before in the Inconvenient Truth.  A couple of my colleagues thought that he should have spent some more time talking about possible solutions rather than preaching to an audience that mostly agreed with him.  I thought that although he lacked the charisma of Clinton and the comic talents of Bush, his talk was impressive, especially when he said that climate change was not merely a security or economic issue but a moral issue